Features
One USB console controls up to eight HDMI interface computers and two additional USB 2.0 devices
HDMI compatible

Cascadable to three levels–control up to 512 computers*1

Multi-Display feature – stack up to eight CS1798 units and display video from up to eight monitors(dual display/triple display/quad display/multi-display)

2-port USB 2.0 hub built in
Computer selection via front panel pushbuttons, hotkeys, and multilingual on-screen display (OSD)
Independent switching of KVM and USB focus
OSD Backup/Restore feature–enables the administrator to back up the switch's configuration and user profile information
Firmware upgradable

Video DynaSync™ – exclusive ATEN technology eliminates boot-up display problems and optimizes resolution when switching between ports

Superior video quality–supports up to 1080p / 1920 x 1200@60Hz
Supports widescreen resolutions

Audio enabled–full bass response provides a rich experience for 2.1 channel surround sound systems

Console audio ports on front panel for easy access
Auto Scan Mode for monitoring all computers
HDCP compatible
Multiplatform support–Windows, Linux, Mac, Sun
Console mouse port emulation/bypass feature supports most mouse drivers and multifunction mice
Complete keyboard emulation for error-free booting
Mac/Sun keyboard support and emulation*2.3.

Multilingual OSD supports English, German, Japanese, Traditional Chinese, Simplified Chinese, Spanish, Russian, and French

Multilingual keyboard mapping – supports English (US), English (UK), German (GER.), German (SWISS), French, Hungarian, Italian, Japanese, Korean, Russian, Spanish, Swedish, Traditional Chinese, and Simplified Chinese.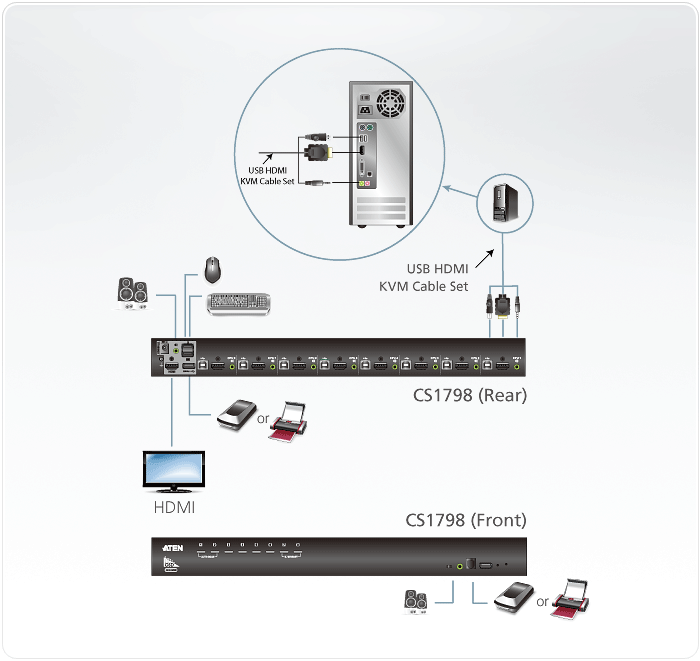 CS1798
8-Port USB HDMI KVM Switch
The CS1798 8-port USB HDMI KVM Switch is a multi-purpose appliance that consolidates access and control of up to 8 HDMI computers from a single USB keyboard, USB mouse, and monitor console.